"We have now increased our assessment of the risk of spread and the risk of impact of COVID-19 to very high at a global level."
— Director-General of the World Health Organization, Tedros Adhanom Ghebreyesus, Geneva, Switzerland, February 28, 2020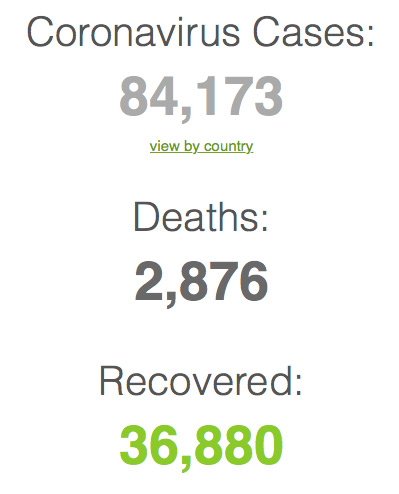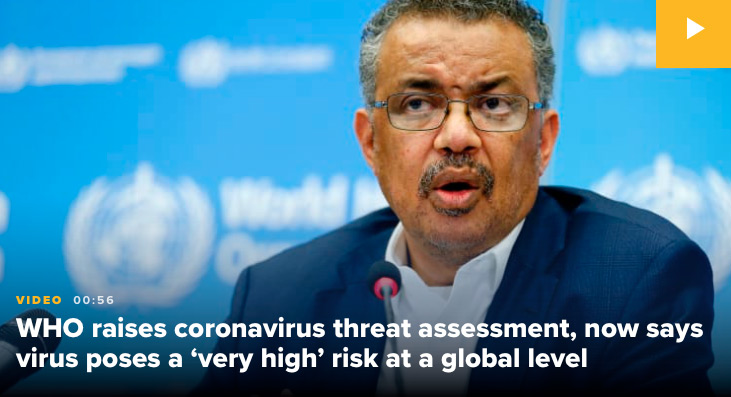 February 28, 2020 Albuquerque, New Mexico – In a press conference today, the Director-General of the World Health Organization, Tedros Adhanom Ghebreyesus, announced that COVID-19 has spread to 59 countries now in every continent except Antarctica. Further, he announced, "We have now increased our assessment of the risk of spread and the risk of impact of COVID-19 to very high at a global level."
Citing the work of its researchers in China, WHO announced earlier this week that the fatality rate for COVID-19 is "between 2% and 4%."
Worldometers.info is keeping a 24-hour watch on COVID-19 news and reported at 2:30 PM Mtn., February 28, 2020,  that the coronavirus is infecting people in 59 countries and territories around the world, plus the Diamond Princess cruise ship quarantined in Yokohama, Japan, earlier in February that became a concentrated Petri dish of coronavirus that spread to more than 600 cruise passengers.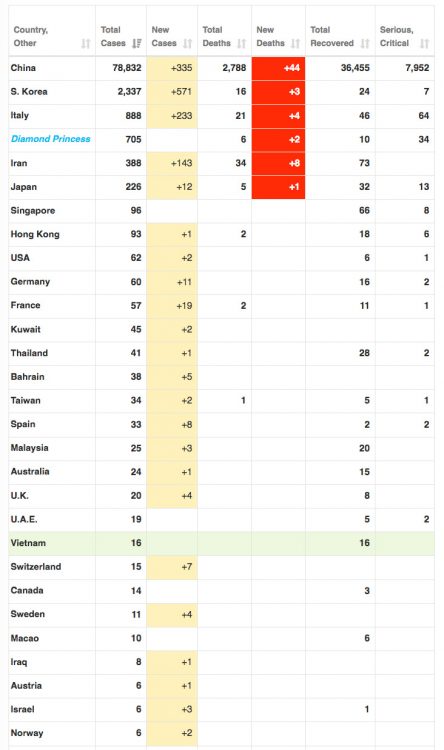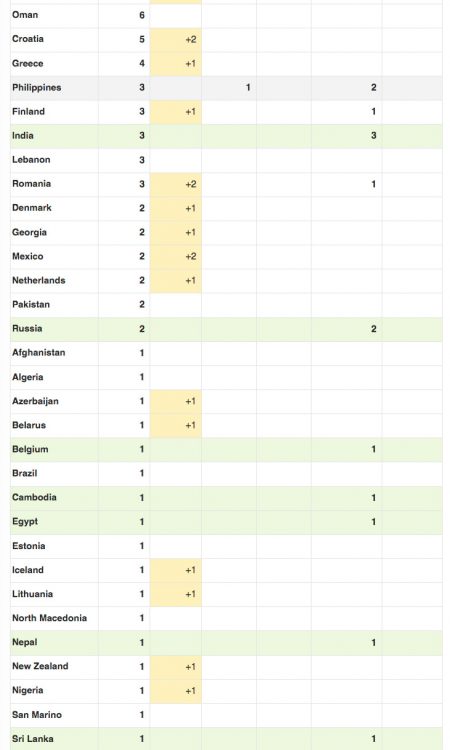 ---
More Information:
02-27-20 –  CDC Confirms First "Community Spread" COVID-19 Case in California, Which Means No Clue Where Coronavirus Came From.
02-26-20 – 8:30 AM Mtn Feb. 26th Update — CDC to Americans: "Prepare for Expectation That This COVID-19 Might Be Bad." WHO: "World Must Prepare for Pandemic." See Earthfiles YouTube Livestream Tonight for Latest Details.
---
Websites:
"Coronavirus: Italy hunts for coronavirus superspreader as '7th person dies' of COVID-19," Sky News, February 24, 2020:  https://news.sky.com/story/coronavirus-austria-considers-border-controls-over-coronavirus-outbreak-11941438
Worldometers Active COVID-19 Cases and Deaths:  https://www.worldometers.info/coronavirus/
"Lung biopsy of deceased China patient shows SARS-like damage," February 18, 2020, Japanese Times:  https://www.japantimes.co.jp/news/2020/02/18/asia-pacific/science-health-asia-pacific/lung-biopsy-deceased-china-patient-shows-sars-like-damage/#.Xky-KUN7k6c
"Stocks fall after Apple's coronavirus warning; analyst says 'worst is yet to come' for markets," February 18, 2020: https://www.cnbc.com/2020/02/18/coronavirus-latest-updates.html

© 1998 - 2023 by Linda Moulton Howe.
All Rights Reserved.