"It is a sad day in our state as we learn that a Washingtonian has died from COVID-19. Our hearts go out to his family and friends. We will continue to work toward a day where no one dies from this virus."
— Jay Inslee, Governor of Washington, February 29, 2020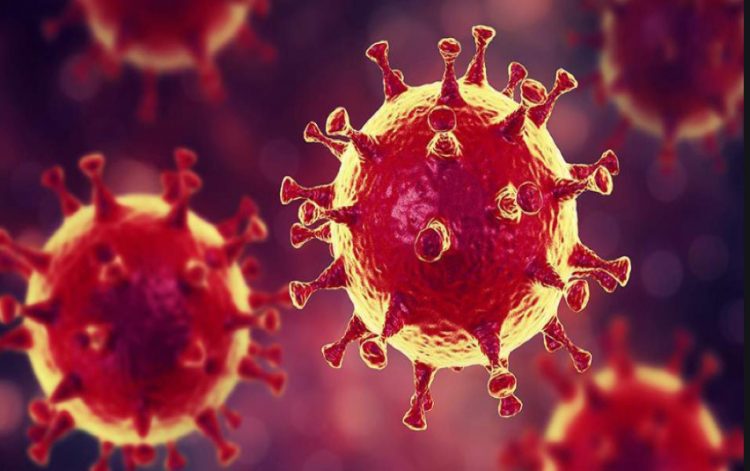 1 PM Mtn Update  February 29, 2020  Albuquerque, New Mexico – Washington state along with Oregon and California all reported new cases on Friday. Among the new confirmed or presumptive cases, there were three contracted from an unknown source, bringing the total number of what could be "community spread" cases in the United States to four.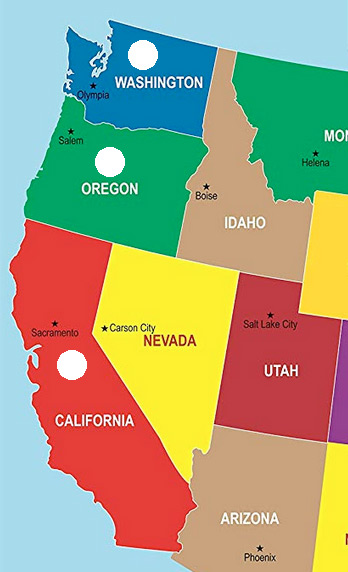 The first case of COVID-19 that appears to be "community spread" from an unknown source is a woman now being treated at the US Davis Medical Center in Sacramento, California.  She is from Solano County, where quarantined passengers from the Diamond Princess cruise ship were brought home on February 17, 2020, after an explosion of COVID-19 infections during the cruise ship's long quarantine in Yokohama, Japan. Over 300 American cruise ship passengers were evacuated back to the United States on the early morning of February 17th to Travis AFB, Solano County, California, and to Lackland AFB, San Antonio, Texas.
The passengers from those flights were met by Trump Administration "greeters" who had no masks, clothes coverings or medical training. Those "greeters" went on from meeting with the cruise ship passengers to restaurants, hotels and return flights to their offices. Thus, the new "community spread" case in Solano County and others might be because of that unprotected close contact of "greeters" and quarantined passengers.
As of mid-day Saturday, February 29, 2020, the U.S. has 66 cases of coronavirus, which include nine people who have recovered and four "presumptive" cases, which are those that tested positive in local tests followed by pending confirmation from the Centers for Disease Control and Prevention.
Worldometers Current COVID-19 Cases, Deaths and Recoveries  As Of 1:00 PM Mtn, February 29, 2020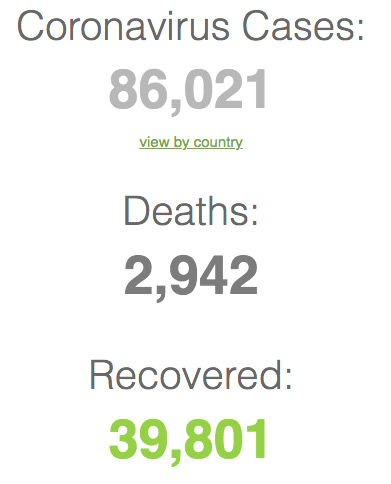 The coronavirus COVID-19 has now affected 63 countries and territories around the world and 1 international conveyance (the Diamond Princess cruise ship harbored in Yokohama, Japan).
To see long list of 63 countries and territories with new case and death and recovery totals, please click here:  https://www.worldometers.info/coronavirus/
---
---
More Information:
02-27-20 –  CDC Confirms First "Community Spread" COVID-19 Case in California, Which Means No Clue Where Coronavirus Came From.
02-26-20 – 8:30 AM Mtn Feb. 26th Update — CDC to Americans: "Prepare for Expectation That This COVID-19 Might Be Bad." WHO: "World Must Prepare for Pandemic." See Earthfiles YouTube Livestream Tonight for Latest Details.
---
Websites:
"Coronavirus: Italy hunts for coronavirus superspreader as '7th person dies' of COVID-19," Sky News, February 24, 2020:  https://news.sky.com/story/coronavirus-austria-considers-border-controls-over-coronavirus-outbreak-11941438
Worldometers Active COVID-19 Cases and Deaths:  https://www.worldometers.info/coronavirus/
"Lung biopsy of deceased China patient shows SARS-like damage," February 18, 2020, Japanese Times:  https://www.japantimes.co.jp/news/2020/02/18/asia-pacific/science-health-asia-pacific/lung-biopsy-deceased-china-patient-shows-sars-like-damage/#.Xky-KUN7k6c
"Stocks fall after Apple's coronavirus warning; analyst says 'worst is yet to come' for markets," February 18, 2020: https://www.cnbc.com/2020/02/18/coronavirus-latest-updates.html

© 1998 - 2023 by Linda Moulton Howe.
All Rights Reserved.