"If the virus has been spreading undetected in Washington state since mid-January 2020, that could mean that anywhere from 150 to 1,500 people may have it, with some 300 to 500 people the most likely range. Many of those people would now be in the early stages of incubating the virus and might not yet be contagious."
— Mike Famulare, M. D., Principal Research Scientist, Inst. for Disease Modeling, Bellevue, Washington, March 1, 2020
"The COVID-19 coronavirus will ultimately not be containable and within a year will infect somewhere between 40 – 70% of humanity," but only about 20% of human population will be seriously ill.
— Marc Lipsitch, Ph.D., Epidemiologist, Harvard University
"In the past week, COVID-19 has started behaving a lot like the once-in-a-century pathogen we've been worried about. I hope it's not that bad, but we should assume it will be until we know otherwise."
— Bill Gates, Founder of Microsoft and Bill and Melinda Gates Foundation, writing in The New England Journal of Medicine, February 28, 2020
"I think it's very important that we treat the American people like adults and explain to them that we don't know where this will go, that we will see more cases, that we will see continued community spreading in the United States, as we're seeing around the world."
— Alex Azar, Director, Dept. of Health and Human Services, Washington, D. C., March 1, 2020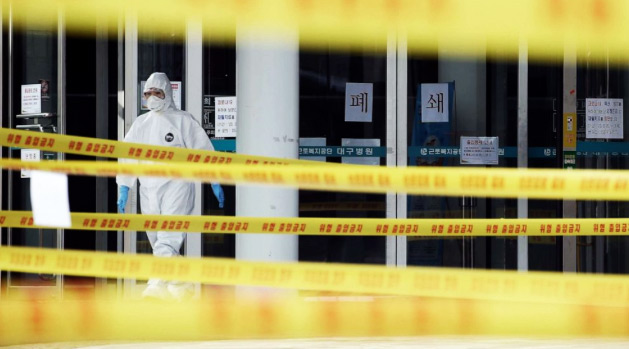 Sunday 5:00 PM Mtn UPDATE:  March 1, 2020 Albuquerque, New Mexico –  A man in his 40s is in a Rhode Island hospital today positive for COVID-19 after traveling in Italy, France and Spain. The CDC has more new data today that indicates COVID-19 can go undetected for weeks in humans, who are transmitting the deadly virus to many others humans. Right now the CDC is genetically investigating two people who live in the same Washington state in the northwest, but don't know each other. One is a man in his 30s, who had to be treated in a hospital isolation unit and is now recovered.  The other later infection is in a teenager, tested in a Seattle Flu Study on February 24th.  The teenager had become sick with the coronavirus 6 weeks after the infectious man, who had been transmitting the coronavirus, which the teenager somehow received and got sick long after the older man had been hospitalized.
"So the genetic findings suggest that the first person has been spreading through other people in the Washington community for close to six weeks," Prof. Trevor Bedford told The New York Times from his work at the Fred Hutchinson Cancer Research Center and the University of Washington in Seattle. In both patients medical geneticists discovered that the COVID-19 coronavirus containsed a genetic variation that is rare. "It was found in only two of the 59 samples whose sequences have been shared from China" where the coronavirus originated in December 2019.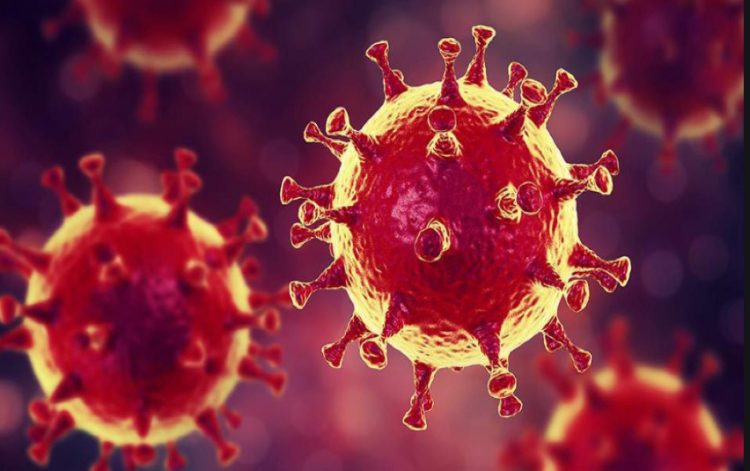 The implication for the whole world is that this COVID-19 coronavirus is infecting people who remain free of symptoms, asymptomatic, for at least two weeks or more while the human hosts move around through their fellow human beings spreading the dangerous coronavirus to more and more people. This could explain how COVID-19 has spread so quickly around the world into a pandemic of 67 countries and territories since December 2019, for only three months. In fact, in a March 1, 2020, interview with The New York Times, Mike Famulare, M. D., Principal Research Scientist at the Institute for Disease Modeling in Bellevue, Washington, calculated: "If the virus has been spreading undetected in Washington state since mid-January 2020, that could mean that anywhere from 150 to 1,500 people may have it, with some 300 to 500 people the most likely range. Many of those people would now be in the early stages of incubating the virus and might not yet be contagious." So now there is a new urgency to get more test kits out into the nation for more testing of pathogens that could more quickly turn up COVID-19 lurking in an asymptomatic carrier.
Gene Sequencing Indicates That COVID-19 Can Spread for Weeks Without Detection
Washington State has declared an emergency as the COVID-19 has caused death and illness at a nursing home. The Czech Republic and Scotland have reported their first cases, while airlines have stopped all travel in and out of Milan, Italy, where the coronavirus has been rapidly spreading and killing for a week. Qatar confirms two more COVID-19 cases. Medical authorities expect some schools will have to be closed and parents will have to stay home from work. Like dominoes falling, from closed offices to closed production lines, how long will it be before the United States and/or whole world sinks into global recession?
March 1, 2020 at 5:00 PM Mtn – Worldometers Tracking COVID-19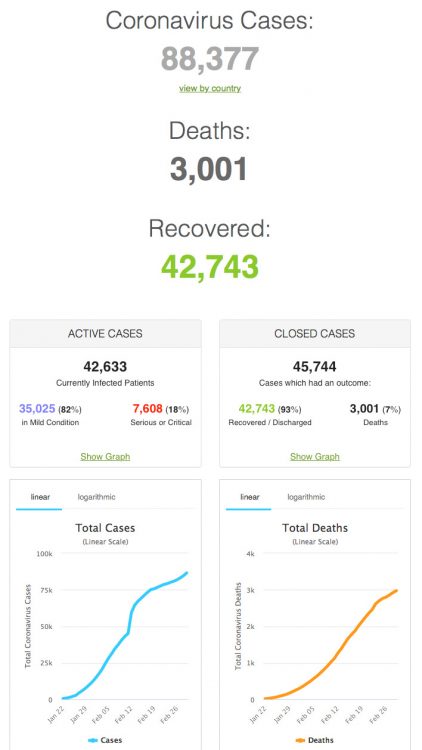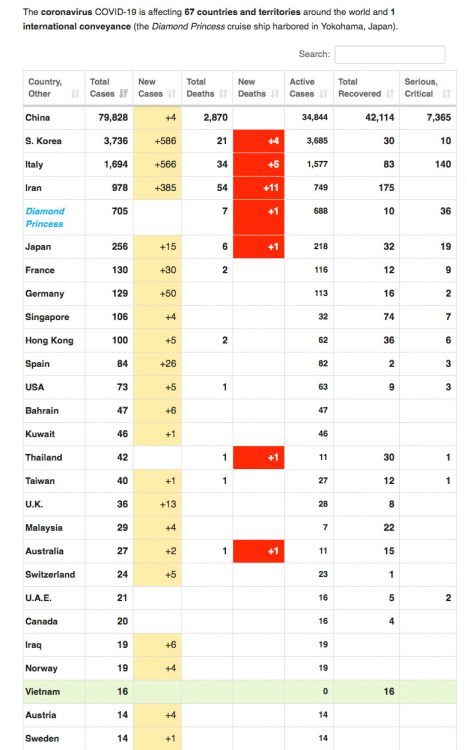 ---
More Information:
02-29-20 – First COVID-19 Death in U. S. Is In Washington State. King County Press Conference At 4 PM Mtn Today. New Cases in Washington, Oregon and California Could Be "Community Spread." U. S. 66 Confirmed Cases. World Death Total Now 2,942 and 86,021 Cases.
02-27-20 –  CDC Confirms First "Community Spread" COVID-19 Case in California, Which Means No Clue Where Coronavirus Came From.
02-26-20 – 8:30 AM Mtn Feb. 26th Update — CDC to Americans: "Prepare for Expectation That This COVID-19 Might Be Bad." WHO: "World Must Prepare for Pandemic." See Earthfiles YouTube Livestream Tonight for Latest Details.
---
Websites:
"Coronavirus: Italy hunts for coronavirus superspreader as '7th person dies' of COVID-19," Sky News, February 24, 2020:  https://news.sky.com/story/coronavirus-austria-considers-border-controls-over-coronavirus-outbreak-11941438
Worldometers Active COVID-19 Cases and Deaths:  https://www.worldometers.info/coronavirus/
"Lung biopsy of deceased China patient shows SARS-like damage," February 18, 2020, Japanese Times:  https://www.japantimes.co.jp/news/2020/02/18/asia-pacific/science-health-asia-pacific/lung-biopsy-deceased-china-patient-shows-sars-like-damage/#.Xky-KUN7k6c
"Stocks fall after Apple's coronavirus warning; analyst says 'worst is yet to come' for markets," February 18, 2020: https://www.cnbc.com/2020/02/18/coronavirus-latest-updates.html
© 1998 – 2020 by Linda Moulton Howe.
All Rights Reserved.

© 1998 - 2023 by Linda Moulton Howe.
All Rights Reserved.