"There's no way to confirm any of China's numbers. There's lots of public reporting on whether the numbers are too low."
— Robert C. O'Brien, U. S. National Security Adviser, Washington, D. C., April 3, 2020, NYT
"What we now know about the outbreak in China is largely because of the work of Chinese journalists and netizens who refused to be silenced. Over 41 investigative reports by journalists have been deleted and banned."
— Bradley Thayer, Ph.D., Professor of Political Science, University of Texas-San Antonio, April 3, 2020
April 3, 2020 Albuquerque, New Mexico – In mid-March, Earthfiles received a communication from a military source about China not telling the truth about its total deaths from COVID-19.  The source requested anonymity about leaked information from a Hong Kong university medical doctor that the real China COVID-19 death toll "is well over 250,000 and rising"  — not the 3,322 number listed here for China "Total Deaths" on April 3, 2020, by Worldometers.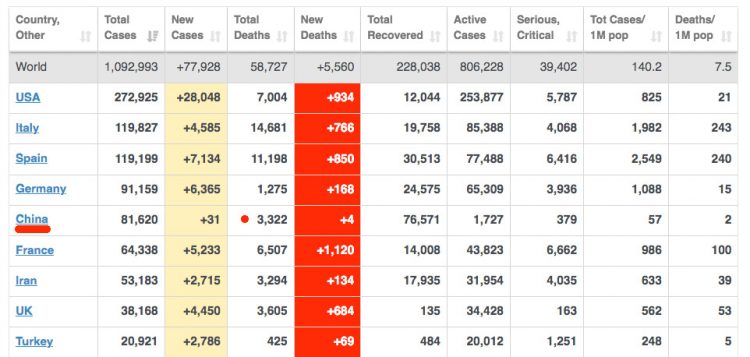 Yesterday on April 2, 2020, The New York Times headlined, "C.I.A. Hunts for Authentic Virus Totals in China, Dismissing Government Tallies."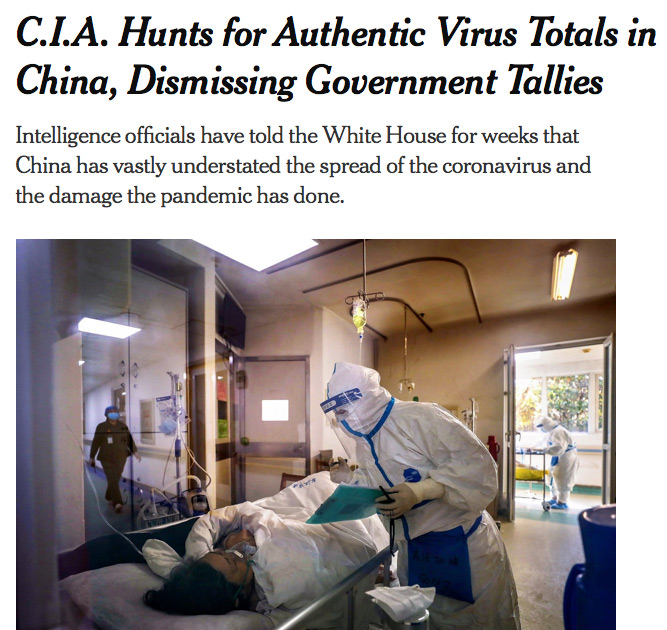 NYT reporter Julian Barnes wrote, "The C. I. A. has been warning the White House since at least early February 2020 that China has vastly understated its coronavirus infections and that its count could not be relied upon as the United States compiles predictive models to fight the virus, according to current and former intelligence officials."
China not telling the truth about its actual COVID-19 death toll was reinforced last week on March 27, 2020, when news about thousands of ash urns from crematoriums leaked out on New Tang Dynasty Television (NTD, Chinese: 新唐人電視臺), a TV news and satire broadcaster on China Uncensored YouTube.
The still frame above is from a leaked cell phone video in the Wuhan, China, region that showed hundreds of cremation ash urns neatly stacked in huge quantities in one of seven large, government-operated funeral homes with crematoriums that have been working around the clock since March 23, 2020. But when families came to collect their loved ones' remains in extremely long lines at the funeral home/crematoriums, Chinese government censors deleted videos and images sent to social media.
NTD reported that trucks delivered about 2,500 urns on both days of March 25-26, 2020. Another facility had 3,500 urns and some families waited for 5 hours in line to pick up ashes of their deceased relatives. When the Chinese financial magazine, Caixin, tried to confirm with funeral home crematoriums how many urns in total had been collected, the answer was the numbers were not permitted to be disclosed.
Does China Even Know How Many Citizens Have Been Killed by COVID-19?
True and factual numbers of cases and deaths in China where COVID-19 began in early December 2019, are vital for scientists to produce models of transmission rates and surges to help the whole world prepare for and fight such an insidious and invisible enemy that is this pandemic.
Back on February 7, 2020, the Chinese People's Daily reported that a Wuhan Central Hospital doctor, Li Wenliang, M. D., died that Friday from COVID-19. The irony was that Dr. Li had tried to warn his fellow doctors on December 30, 2019, that he had evidence of a deadly coronavirus. But China's leader, Xi Jinping, did not want any discussion about a new coronavirus going public. So Wuhan police went to Dr. Wenliang's home to order him to "stop making false comments."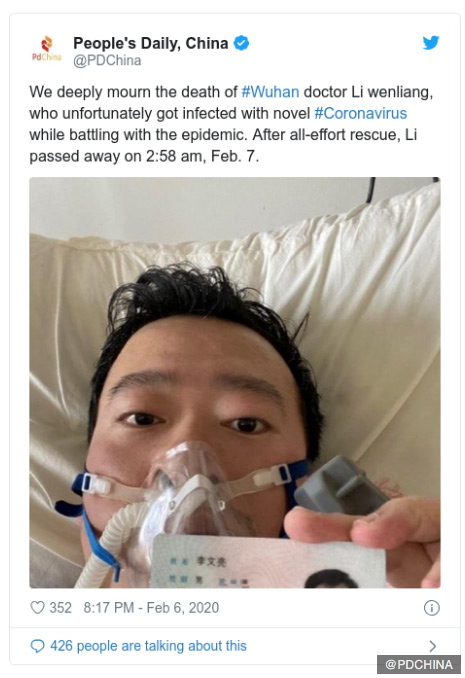 Today on April 3, 2020, as the United States is now in a terrible surge of COVID-19 new cases and deaths, Professor of Political Science Bradley Thayer at the University of Texas-San Antonio, asked in a column he wrote for The Hill in Washington, D. C. —  What did China's Xi Jinping know, and when did he know it?
"What we now know about the outbreak in China is largely because of the work of Chinese journalists and netizens who refused to be silenced. Over 41 investigative reports by journalists have been deleted and banned. Citizen journalists such as Chen Qiushi, Fan Bin and Li Zehua are still in police detention. The world will not know the full truth until they are released and free to explain how the Chinese Communist Party (CCP)  allowed the pandemic to happen."
World COVID-19 Cases, Deaths and Recoveries, 5:30 PM Mtn on April 3, 2020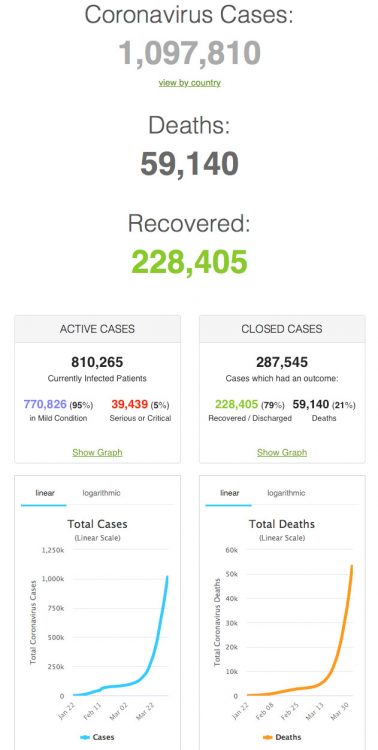 ---
Websites:
Dr. Edsel Salvana, Ph.D., Infectious Diseases Physician and Molecular Biologist, Philippines, March 21, 2020 Tweets:  https://mobile.twitter.com/edselsalvana
Rocky Mountain Laboratories of National Inst. of Allergy and Infectious Diseases (NIAID):https://www.niaid.nih.gov/about/rocky-mountain-laboratories
"Australian researchers claim two existing drugs could 'cure' COVID-19 after patients tested responded 'very well' to treatment," March 17, 2020:  https://www.dailymail.co.uk/news/article-8115879/COVID-19-Australian-researchers-CURE-coronavirus.html
"Prophylactic and therapeutic remdesivir treatment in the rhesus macaque model of MERS-CoV infection," Proceedings of the National Academy of Sciences, February 13, 2020: https://www.pnas.org/content/early/2020/02/12/1922083117
"Remdesivir prevents MERS coronavirus disease in monkeys," February 13, 2020: https://www.sciencedaily.com/releases/2020/02/200213160128.htm
---
More Information from Earthfiles about COVID-19:
03-13-2020 – 5:30 PM Eastern UPDATE: Trump Declares National Emergency to Help Fight COVID-19.

03-09-2020 – 7:00 PM Mtn UPDATE: ALL of Italy Now On Urgent Lockdown. Rest of World in 113 Countries = 114,343 Cases; 4,025 Deaths; 63,997 Recovered.

03-08-2020 – 8:30 PM Mtn Update – Half the World's Countries Now Infected in 104 of 197. Milan Region's 16 Million People Now On Lockdown Trying to Contain COVID-19. All Italian Schools Closed. Worldwide 110,066 Cases; 3,830 Deaths; 62,278 Recoveries.

03-06-2020 – 2:00 PM Mtn UPDATE: COVID-19 Pandemic Now in 97 Countries = 101,876 Cases; 3,462 Deaths; 56,108 Recoveries. United States Still Without Adequate Test Kits While COVID-19 Hiding Weeks Inside Human Hosts Infecting Other Humans. Implication: Explosion of USA Positive Cases Upcoming.

03-05-2020 – 1 PM Mtn UPDATE – UK's First Death and World COVID19 Cases = 97,910; Deaths = 3,353, Recovered = 54,124. USA: 16 States; 194 Cases and 11 Deaths.

03-02-2020 – 1 PM March 2nd UPDATE: Pandemic COVID-19 Now In 75 Countries: 90,294 Cases; 3,086 Deaths; 45,705 Recoveries. United States 92 Cases and 6 Deaths.

03-01-2020 – Sunday, 5 PM Update: Italy Reports 50% Spike in COVID-19 Cases; Rhode Island Reports First COVID-19 Case; and the French Louvre Closes Doors. Now In 67 Countries —  88,377 Cases, 3,001 Deaths, 42,743 Recoveries.

02-29-2020 – First COVID-19 Death in U. S. Is In Washington State. King County Press Conference At 4 PM Mtn Today. New Cases in Washington, Oregon and California Could Be "Community Spread." U. S. 66 Confirmed Cases. World Death Total Now 2,942 and 86,021 Cases.

02-28-2020 – World Health Organization Today: Risk of COVID-19 Spread and Impact Is Now "Very High At A Global Level."

02-27-2020 – CDC Confirms First "Community Spread" COVID-19 Case in California, Which Means No Clue Where Coronavirus Came From.

02-26-2020 – 8:30 AM Mtn Feb. 26th Update — CDC to Americans: "Prepare for Expectation That This COVID-19 Might Be Bad." WHO: "World Must Prepare for Pandemic." See Earthfiles YouTube Livestream Tonight for Latest Details.

02-17-2020 – Monday 7:30 PM Update: 73,335 Confirmed Cases and 1,873 Deaths; 300+ American Diamond Princess Cruise Passengers Land At Lackland AFB Early This Morning with 14 More COVID-19 Newly Infected Patients Who Will Be Quarantined Again, Raising U.S. Confirmed Cases to 29.

© 1998 - 2023 by Linda Moulton Howe.
All Rights Reserved.