"We are facing an emergency, a national emergency."
— Prime Minister Giuseppte Conte in a 2 AM Sunday news press conference, March 8, 2020
"The head of the Italian Lombardy region's intensive care crisis unit says the health system is on the brink of collapse, intensive care being set up in hallways. By March 26, they predict ~ 18,000 COVID-19 cases in Lombardy, of which ~ 3,000 will need intensive care."
—  Twitter feed from Rachel Donadio, Lombardy Province, Italy, March 8, 2020
"Well, it's arrived. I also have the coronavirus."
— Rome-based leader of Italy's Democratic Party and president of the Lazio region, Nicola Zingarette, announced on Facebook, Saturday, March 7, 2020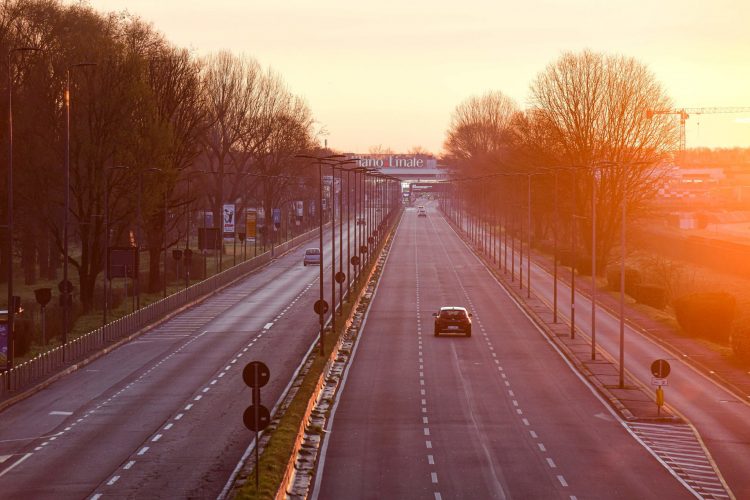 5:30 PM Mtn UPDATE – March 8, 2020 Albuquerque, New Mexico – Italy's government in the early morning hours of Sunday, March 8, 2020, ordered a lock down of Milan and the surrounding region to try to help contain the rapidly rising COVID-19 cases and deaths in northern Italy. That is an ordered quarantine of some 16 million people in what is usually the strongest economic engine of Italy. This is the largest and most stringent government order beyond China's lockdown of some 100 million people in Wuhan and the Hubei province a few weeks ago. This order came suddenly and provoked local leaders in northern Italy to complain they had not been consulted.
March 8, 2020 Tweet from Rachel Donadio
"The head of the Italian Lombardy region's intensive care crisis unit says the health system is on the brink of collapse, intensive care being set up in hallways. By March 26, they predict ~ 18,000 COVID-19 cases in Lombardy, of which ~ 3,000 will need intensive care."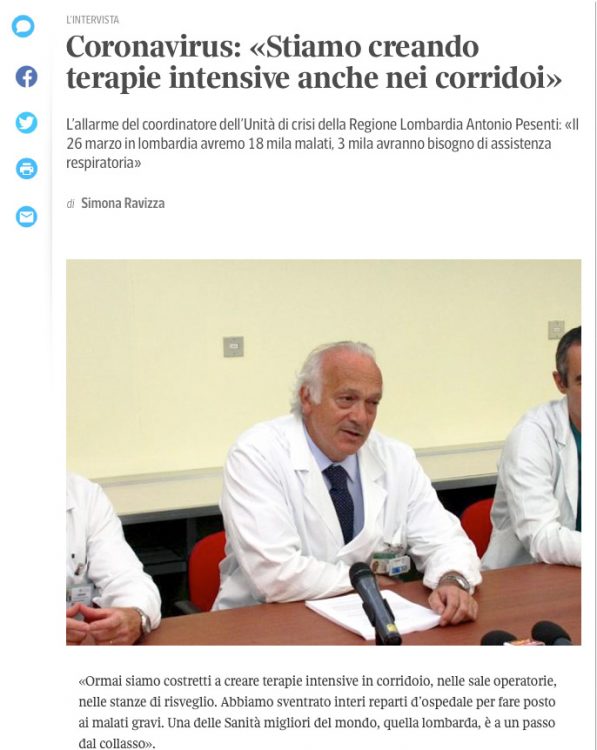 Prior to this lockdown, Italy's government had ordered the closing of the entire country's schools, while on Saturday, March 7, 2020, the Rome-based leader of Italy's Democratic Party and president of the Lazio region, Nicola Zingarette, announced on Facebook:  "Well, it's arrived. I also have the coronavirus."
COVID-19 Confirmed Cases and Deaths in 32 States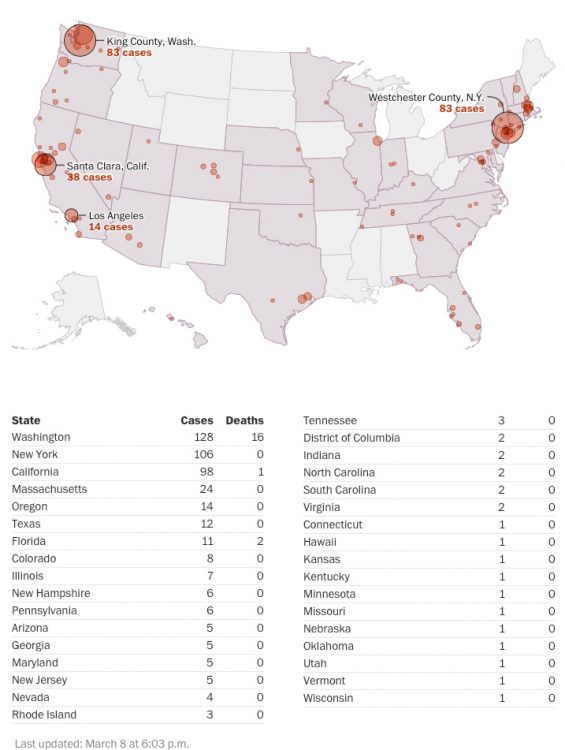 Half the World's Countries Now Infected in 104 of 197 
The coronavirus COVID-19 is affecting 104 countries and territories around the world and one international conveyance (the Diamond Princess cruise ship harbored in Yokohama, Japan). Here is a partial world list of 90 infected country cases and deaths.
More Information:
03-06-20 — 2:00 PM Mtn UPDATE: COVID-19 Pandemic Now in 97 Countries = 101,876 Cases; 3,462 Deaths; 56,108 Recoveries. United States Still Without Adequate Test Kits While COVID-19 Hiding Weeks Inside Human Hosts Infecting Other Humans. Implication: Explosion of USA Positive Cases Upcoming.
03-02-20 — 1 PM March 2nd UPDATE: Pandemic COVID-19 Now In 75 Countries: 90,294 Cases; 3,086 Deaths; 45,705 Recoveries. United States 92 Cases and 6 Deaths.
02-29-20 – First COVID-19 Death in U. S. Is In Washington State. King County Press Conference At 4 PM Mtn Today. New Cases in Washington, Oregon and California Could Be "Community Spread." U. S. 66 Confirmed Cases. World Death Total Now 2,942 and 86,021 Cases.
02-27-20 –  CDC Confirms First "Community Spread" COVID-19 Case in California, Which Means No Clue Where Coronavirus Came From.
02-26-20 – 8:30 AM Mtn Feb. 26th Update — CDC to Americans: "Prepare for Expectation That This COVID-19 Might Be Bad." WHO: "World Must Prepare for Pandemic." See Earthfiles YouTube Livestream Tonight for Latest Details.
---
Websites:
Worldometers Active COVID-19 Cases and Deaths:  https://www.worldometers.info/coronavirus/
"As Coronavirus Disrupts Factories, India Curbs Exports of Key Drugs," March 3, 2020, The New York Times: https://www.nytimes.com/2020/03/03/business/coronavirus-india-drugs.html
"Coronavirus: Italy hunts for coronavirus superspreader as '7th person dies' of COVID-19," Sky News, February 24, 2020:  https://news.sky.com/story/coronavirus-austria-considers-border-controls-over-coronavirus-outbreak-11941438
"Lung biopsy of deceased China patient shows SARS-like damage," February 18, 2020, Japanese Times:  https://www.japantimes.co.jp/news/2020/02/18/asia-pacific/science-health-asia-pacific/lung-biopsy-deceased-china-patient-shows-sars-like-damage/#.Xky-KUN7k6c
"Stocks fall after Apple's coronavirus warning; analyst says 'worst is yet to come' for markets," February 18, 2020: https://www.cnbc.com/2020/02/18/coronavirus-latest-updates.html
© 1998 – 2020 by Linda Moulton Howe.
All Rights Reserved.

© 1998 - 2023 by Linda Moulton Howe.
All Rights Reserved.