"Now that the COVID-19 coronavirus has a foothold in so many countries, the threat of a pandemic has become very real."
— Tedros Adhanom Ghebreyesus, Director, World Health Organization, March 9, 2020
"The future depends on us and everyone must do their part. There won't be just a red zone for Lombardy. There will be Italy."
— Gieuseppe Conte, Italy's Prime Minister, March 9, 2020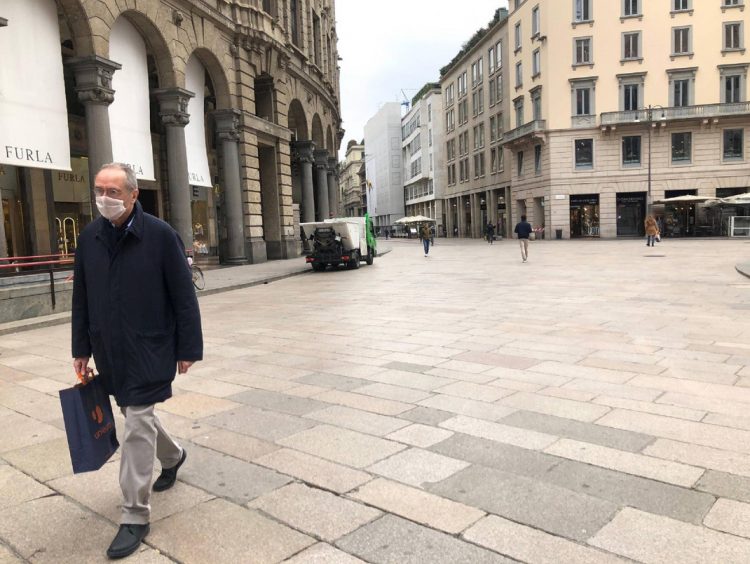 7:00 PM Mtn UPDATE:  March 9, 2020 Albuquerque, New Mexico –  As Italy's COVID-19 cases hit 9,172 today with 463 deaths, Italy's Prime Minister Giuseppe Conte asked the entire nation to stay home as much as possible in voluntary quarantine saying, " as a protected nation. Conte also extended the closure of schools and universities across the whole nation until April 3, 2020, and he asked young people, who have been using the COVID-19 emergency as an excuse to drink and socialize, to stop "nightlife — we can't allow this any more."
Lombardy Province President Attilio Fontana wants "even more stringent rules to overcome this COVID-19 emergency."  Lombardy is where at least 300 of the COVID-19 deaths have occurred and is already in lockdown in a "red zone" in which movies, museums and theaters are closed down and restaurants have been ordered to restrict hours such as 6 AM to 6 PM. Italy's Foreign Office is also advising against travel to Lombardy and the surrounding region.
COVID-19 Infected Grand Princess Cruise Ship Finally Docks In Oakland, California
The Grand Princess cruise ship that was kept in the Pacific waters off San Francisco for days, while at least 46 people were tested for COVID-19 and 21 tested positive, was finally docked today in Oakland, California.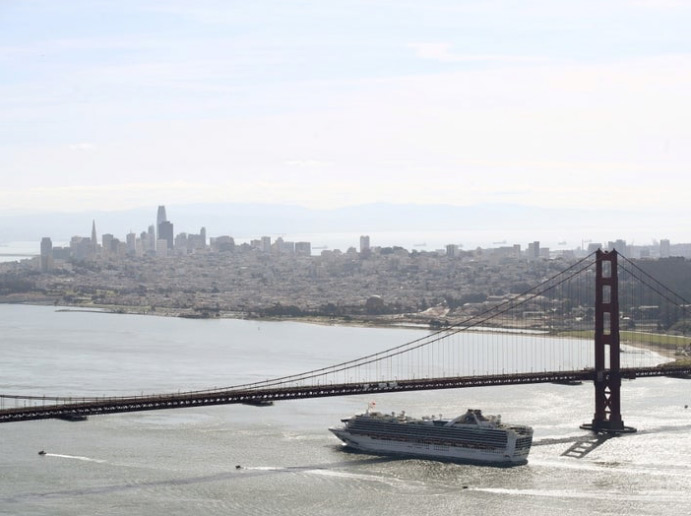 From the Grand Princess, California passengers will be taken to military bases in northern and southern California. Other U. S. residents on the cruise ship will be flown on chartered planes to Texas and Georgia. Canadian passengers will also be flown on chartered planes to be quarantined in Canada.
Updates, Good and Bad, Amid World Spread of Coronavirus
—   France reports 19 deaths as confirmed COVID-19 cases rise to 1,209, causing a ban on gatherings of more than 1,000 people.
—  Saudi Arabia, like Italy, suspends all schools and universities.
—  In addition to Washington State in the U. S. A., Oregon now has declared an emergency as confirmed cases double to 14.
— Mainland China now outside Hubei Province reports there have been NO NEW locally transmitted COVID-19 cases since March 7, 2020.
—  COVID-19 dramatically reduces air pollution over Wuhan and much of China.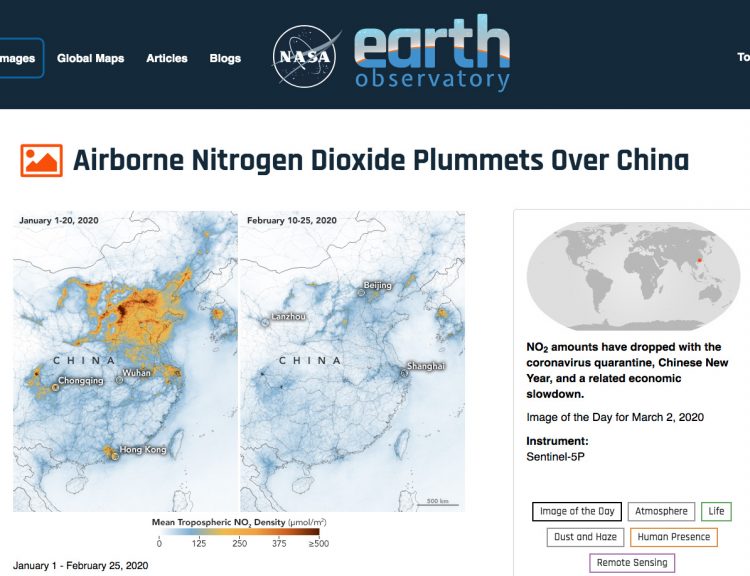 On left: thick goldish-brown-red Nitrogen Dioxide pollution over China on January 1 – 20, 2020. On right: Earth Observatory image of China from February 20-25, showing dramatic clearing of air pollution after the largest and strictest government-imposed lockdowns in human history of at least 100 million people in Wuhan, Hubei Province and surrounding region.
And here below is what happened over Wuhan, a city of 11 million people with hundreds of polluting industries and thousands of vehicles that burn gasoline.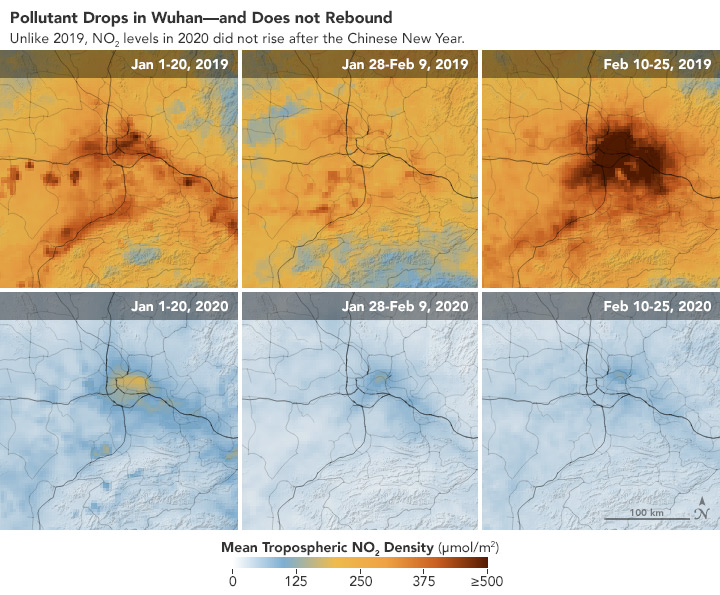 COVID-19 Is 34 Times Deadlier Than Seasonal Flu
Seasonal influenza kills several thousand people each year with a death rate of .1%. Currently, the estimated death rate of COVID-19 is 3.4%. That means the new coronavirus is 34 times more deadly than seasonal flu. Those especially vulnerable are ages 50 on up with 14.8% of people in their 80s dying from COVID-19 compared to only .83% of people 65 and older dying from flu.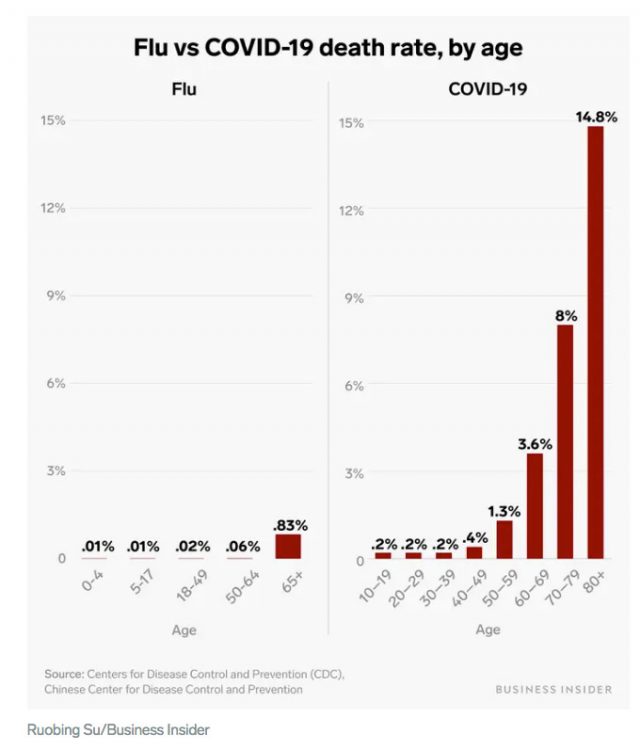 The spreading coronavirus is causing dominoes to fall in the world drug industry supplies. Chinese factories have been the major world supplier of antibiotics and vitamins. But with the COVID-19 coronavirus pandemic raging around the world, those China factories have been closed for weeks.
Now India, with its huge pharamceutical industry, is facing a huge supply problem because the ingredients it uses to make pharmaceuticals mostly ORIGINATES from China, the nation hit first and hardest by the COVID-19 pandemic.
But that's why Indian authorities ordered on March 3, 2020, "India's vast pharmaceutical industry to stop exporting 26 drugs and drug ingredients, mostly antibiotics, without explicit government permission." Further, India's Fitch Ratings projects that, "If this trend of diminishing drugs and drug ingredients continues beyond March 2020 and the coronavirus spreads to other regions in China and around the globe, we expect a disruption of the supply chains and everyone will be hit — every sector."
---
More Information:
030820  — 8:30 PM Mtn Update – Half the World's Countries Now Infected in 104 of 197. Milan Region's 16 Million People Now On Lockdown Trying to Contain COVID-19. All Italian Schools Closed. Worldwide 110,066 Cases; 3,830 Deaths; 62,278 Recoveries.
03-06-20 — 2:00 PM Mtn UPDATE: COVID-19 Pandemic Now in 97 Countries = 101,876 Cases; 3,462 Deaths; 56,108 Recoveries. United States Still Without Adequate Test Kits While COVID-19 Hiding Weeks Inside Human Hosts Infecting Other Humans. Implication: Explosion of USA Positive Cases Upcoming.
03-02-20 — 1 PM March 2nd UPDATE: Pandemic COVID-19 Now In 75 Countries: 90,294 Cases; 3,086 Deaths; 45,705 Recoveries. United States 92 Cases and 6 Deaths.
02-29-20 – First COVID-19 Death in U. S. Is In Washington State. King County Press Conference At 4 PM Mtn Today. New Cases in Washington, Oregon and California Could Be "Community Spread." U. S. 66 Confirmed Cases. World Death Total Now 2,942 and 86,021 Cases.
02-27-20 –  CDC Confirms First "Community Spread" COVID-19 Case in California, Which Means No Clue Where Coronavirus Came From.
02-26-20 – 8:30 AM Mtn Feb. 26th Update — CDC to Americans: "Prepare for Expectation That This COVID-19 Might Be Bad." WHO: "World Must Prepare for Pandemic." See Earthfiles YouTube Livestream Tonight for Latest Details.
---
Websites:
Worldometers Active COVID-19 Cases and Deaths:  https://www.worldometers.info/coronavirus/
"As Coronavirus Disrupts Factories, India Curbs Exports of Key Drugs," March 3, 2020, The New York Times: https://www.nytimes.com/2020/03/03/business/coronavirus-india-drugs.html
"Coronavirus: Italy hunts for coronavirus superspreader as '7th person dies' of COVID-19," Sky News, February 24, 2020:  https://news.sky.com/story/coronavirus-austria-considers-border-controls-over-coronavirus-outbreak-11941438
"Lung biopsy of deceased China patient shows SARS-like damage," February 18, 2020, Japanese Times:  https://www.japantimes.co.jp/news/2020/02/18/asia-pacific/science-health-asia-pacific/lung-biopsy-deceased-china-patient-shows-sars-like-damage/#.Xky-KUN7k6c
"Stocks fall after Apple's coronavirus warning; analyst says 'worst is yet to come' for markets," February 18, 2020: https://www.cnbc.com/2020/02/18/coronavirus-latest-updates.html

© 1998 - 2023 by Linda Moulton Howe.
All Rights Reserved.