"It's humbling to realize how small Earth is next to this visitor from another solar system."
— P. van Dokkum, Ph.D.,  Professor of Astronomy, Yale University
December 1, 2019  Maunakea, Hawaii – Yale astronomers in Hawaii at the W. M. Keck Observatory have captured a new image below of 21/Borisov, the second interstellar object and first interstellar comet to enter our solar system. The first interstellar object was Oumuamua, which astronomers at the University of Hawaii Institute for Astronomy spotted in 2017 using the Panoramic Survey Telescope and Rapid Response System (Pan-STARRS1) telescope at Haleakala on Maui. There is controversy about what exactly Oumuamua was. See end of this report for Harvard University Astronomy Chairman Avi Loeb's perspective that it was a camouflaged technology.
Astronomers report that this first interstellar comet formed in a solar system beyond ours and was ejected into interstellar space when there was a near-collision with a planet in its original solar system. The comet is following a hyperbolic path around the Sun, and currently is speeding at an extraordinary speed of 110,000 miles per hour. David Jewitt, Ph.D., at the University of California, Los Angeles (UCLA), is leader of the Hubble Space Telescope team who is also observing and photographing the interstellar comet. Prof. Jewitt says, "It's traveling so fast it almost doesn't care that the Sun is there."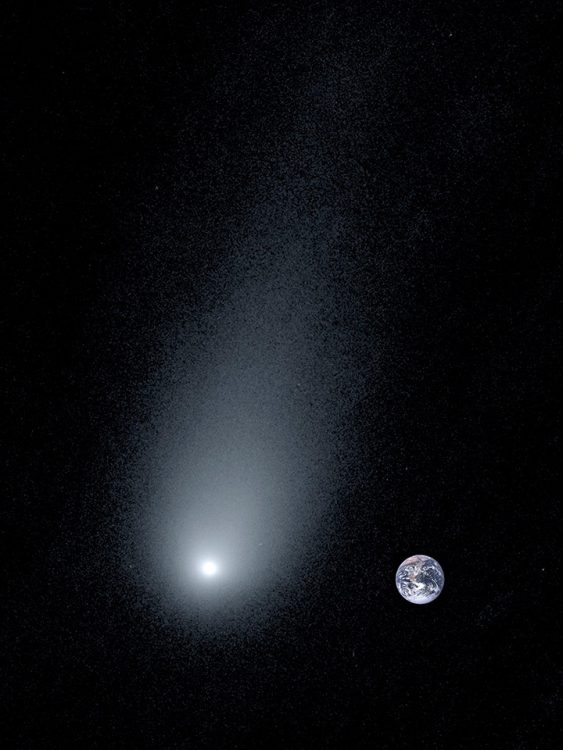 On November 24, 2019, when astronomer P. van Doccum and his team in Hawaii at the Keck Observatory took this image, the interstellar comet "was slightly more than two Earth-Sun distances from our world. Interstellar objects like 2I/Borisov are cosmic artifacts that hold a goldmine of data about solar systems other than our own," said van Dokkum. "We can study the gas and material surrounding 2I/Borisov to characterize its chemical make-up, and compare it to other comets from our Solar System."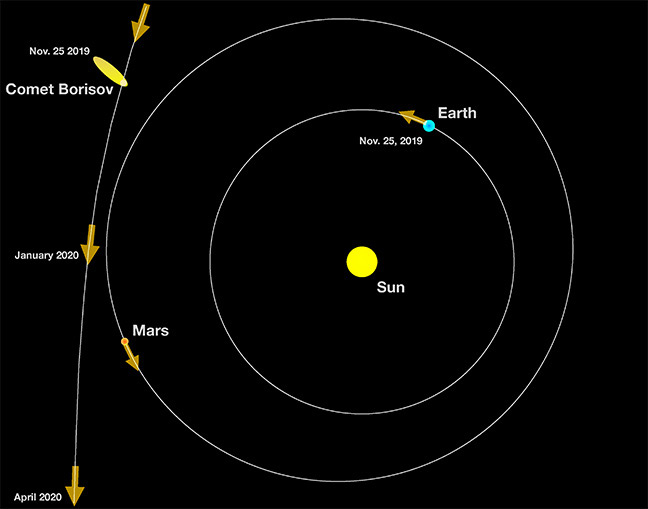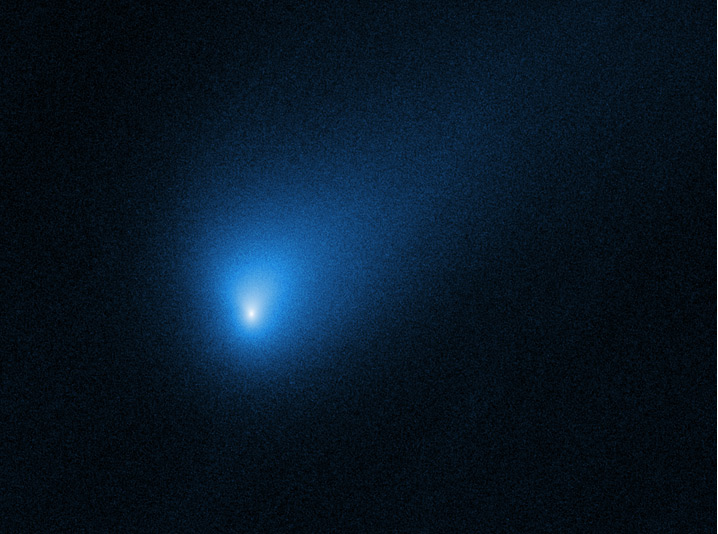 Comet Comes Closest to Sun December 7-8, 2019, and Closest to Earth End of December
2I/Borisov will be reaching the closest point in its orbit to the Sun (perihelion) on December 8, 2019, where it will be near the inner edge of the asteroid belt. When it makes its closest approach to Earth in late December, it will pass us at a distance of over 190 million miles (300 million km) —  a little over two Astronomical Units, or twice the distance between Earth and the Sun.
Was Oumuamua, The 1st Interstellar Object, A Derelict Ship Disguised as An Asteroid?
Avi Loeb, Ph.D., Chairman of the Astronomy Department at Harvard University, hypothesizes that Oumuamua was a derelict ship from somewhere else in the Milky Way Galaxy disguised as an elongated asteroid that still had the ability to accelerate dramatically as Oumuamua left our solar system. See Prof. Loeb's perspective below in Earthfiles 11-04-2018 "Oumuamua's Peculiar Acceleration — Harvard Scientists Discuss Possible Extraterrestrial Lightsail Power."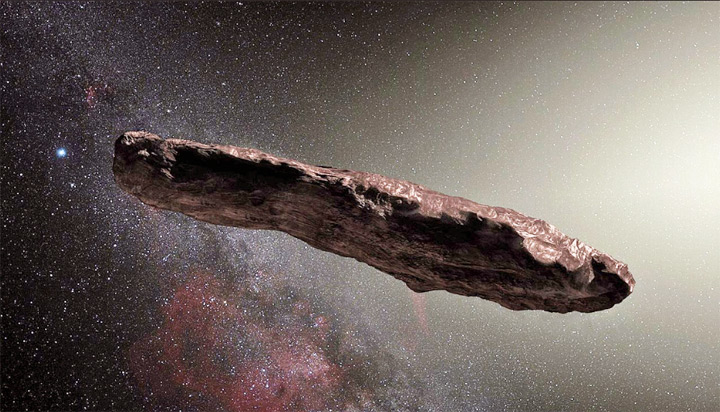 Also See:
11-04-2018 – Oumuamua's Peculiar Acceleration – Harvard Scientists Discuss Possible Extraterrestrial Lightsail Power
---
More Information:
11-21-2019 – Hubble Has Found "Highest Energy Ever Observed" in Our Universe.
09-13-2019 – Second "Interstellar Visitor," After Oumuamua, On Its Way To Our Sun.
06-14-2019 – NASA Mars Orbiter Photo of "Star Trek" Logo-Shaped Dune On Red Planet.
01-31-2019 – 2nd Mysterious Repeating Fast Radio Burst (FRB) Discovered – What Are They?
01-02-2019 – See Amazing First Ultima Thule Photos Unlike Anything Ever Seen Before in Our Solar System!  
11-04-2018 – Oumuamua's Peculiar Acceleration – Harvard Scientists Discuss Possible Extraterrestrial Lightsail Power
11-01-2018 – Mars: Why It's A Strange Cloud and Not Volcano Smoke.
07-01-2018 – Oumuamua — Comet? Asteroid? Other? Changing Speed and Course.
01-04-2018 – The "Juvenile Taboo" Against Telling Truths About An Alien Presence.
---
Websites:
Yale News, November 26, 2019, "New image offers close-up view of interstellar comet":  https://news.yale.edu/2019/11/26/new-image-offers-close-view-interstellar-comet
Keck Observatory, Maunakea, Hawaii:  http://keckobservatory.org/comet-borisov/
Hubble Space Telescope:  https://www.nasa.gov/feature/goddard/2019/hubble-observes-1st-confirmed-interstellar-comet

© 1998 - 2023 by Linda Moulton Howe.
All Rights Reserved.