"The magnitude of this crisis is extraordinary and federal-state-local government coordination will be more critical than ever before."
— Gavin Newsom, Governor of California, March 19, 2020
"Tonight our responsibility is to save as many lives and flatten that COVID-19 curve. This is an act of love."
— Eric Garcetti, Mayor of Los Angeles, California, March 19, 2020
"States should not provide numeric values (of rapidly increasing unemployment claims) to the public."
— Gay Gilbert, Administrator, Labor Dept. Office of Employment Insurance, Washington, D. C.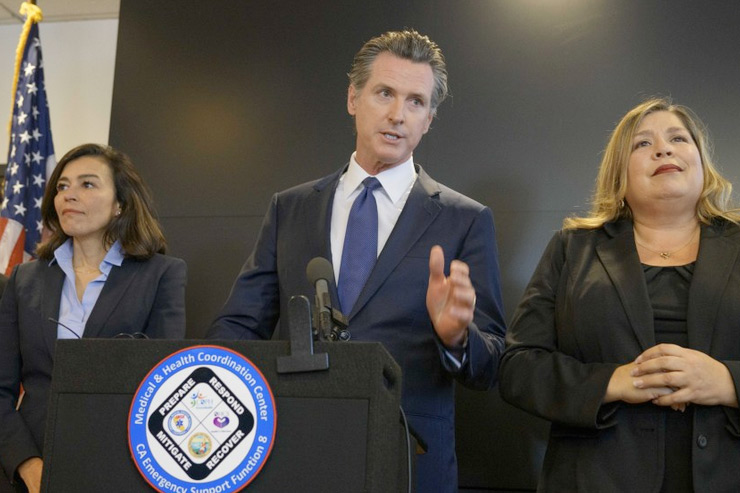 March 19, 2020 Los Angeles and Sacramento, California –  The USA now has confirmed 14,321 COVID-19 cases (with very limited testing, implying the number is actually much greater) and 218 deaths as numbers are nearly doubling now. California has 1,044 cases and 19 deaths. Today, Los Angeles Mayor Eric Garcetti asked all residents to stay in their homes saying: "Tonight our responsibility is to save as many lives and flatten that COVID-19 curve. This is an act of love."
Then California Governor Gavin Newsom followed up with a statewide order for all 40 million Californians to stay home as much as possible for the next eight weeks to save as many lives as possible. Governor Newsom projects that 56% of California's population will be infected by COVID-19, which is about 22.4 million people.
Trump Does Not Want Unemployment Numbers from COVID-19 Pandemic Stress to Be Announced to Protect Stock Market
Newly leaked information says the Trump administration wants state labor officials to delay number of unemployment claims they are receiving in order to prevent the stock market from going lower and lower below 20,000, as it has been for the past several days.
Some states that received the guidance from Ms. Gilbert found it disturbing. It prompted at least one governor's office, which shared the message on the condition of anonymity, to seek an opinion from the state attorney general about whether they had to temporarily withhold the information.
Robert O'Brien, the state's deputy secretary of labor and industry, said the government had been overwhelmed by a flood of unemployment insurance claims — 180,000 just in the last few days. He said that was far more than the state usually gets in a whole month.
World Cases and Deaths on March 19, 2020
COVID-19 is affecting 180 countries and territories around the world out of 194 total and the cruise ship Diamond Princess harbored in Yokohama, Japan. On Thursday night, March 19, 2020, the world total of coronavirus cases is 245,651; deaths 10,050; recoveries 88,437.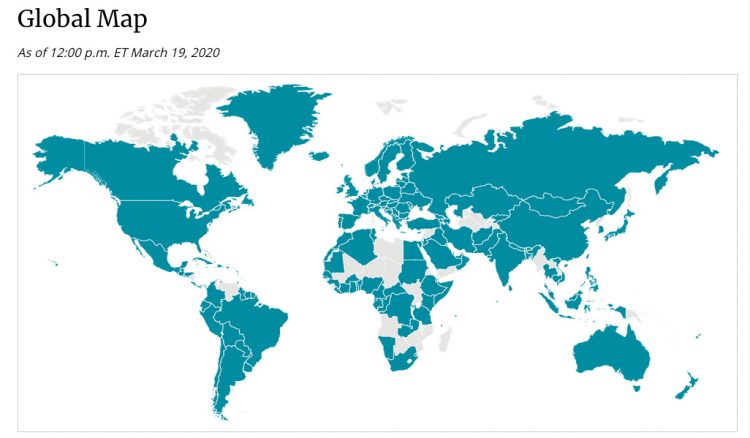 To keep track of the numbers country-by-country, please see:  Worldometers.info.
---
More Information:
"Australian researchers claim two existing drugs could 'cure' COVID-19 after patients tested responded 'very well' to treatment," March 17, 2020:  https://www.dailymail.co.uk/news/article-8115879/COVID-19-Australian-researchers-CURE-coronavirus.html
"Prophylactic and therapeutic remdesivir treatment in the rhesus macaque model of MERS-CoV infection," Proceedings of the National Academy of Sciences, February 13, 2020: https://www.pnas.org/content/early/2020/02/12/1922083117
"Remdesivir prevents MERS coronavirus disease in monkeys," February 13, 2020: https://www.sciencedaily.com/releases/2020/02/200213160128.htm
---
Websites:
Rocky Mountain Laboratories of National Inst. of Allergy and Infectious Diseases (NIAID): https://www.niaid.nih.gov/about/rocky-mountain-laboratories
Earthfiles News About COVID-19:
03-13-2020 – 5:30 PM Eastern UPDATE: Trump Declares National Emergency to Help Fight COVID-19.

03-09-2020 – 7:00 PM Mtn UPDATE: ALL of Italy Now On Urgent Lockdown. Rest of World in 113 Countries = 114,343 Cases; 4,025 Deaths; 63,997 Recovered.

03-08-2020 – 8:30 PM Mtn Update – Half the World's Countries Now Infected in 104 of 197. Milan Region's 16 Million People Now On Lockdown Trying to Contain COVID-19. All Italian Schools Closed. Worldwide 110,066 Cases; 3,830 Deaths; 62,278 Recoveries.

03-06-2020 – 2:00 PM Mtn UPDATE: COVID-19 Pandemic Now in 97 Countries = 101,876 Cases; 3,462 Deaths; 56,108 Recoveries. United States Still Without Adequate Test Kits While COVID-19 Hiding Weeks Inside Human Hosts Infecting Other Humans. Implication: Explosion of USA Positive Cases Upcoming.

03-05-2020 – 1 PM Mtn UPDATE – UK's First Death and World COVID19 Cases = 97,910; Deaths = 3,353, Recovered = 54,124. USA: 16 States; 194 Cases and 11 Deaths.

03-02-2020 – 1 PM March 2nd UPDATE: Pandemic COVID-19 Now In 75 Countries: 90,294 Cases; 3,086 Deaths; 45,705 Recoveries. United States 92 Cases and 6 Deaths.

03-01-2020 – Sunday, 5 PM Update: Italy Reports 50% Spike in COVID-19 Cases; Rhode Island Reports First COVID-19 Case; and the French Louvre Closes Doors. Now In 67 Countries —  88,377 Cases, 3,001 Deaths, 42,743 Recoveries.

02-29-2020 – First COVID-19 Death in U. S. Is In Washington State. King County Press Conference At 4 PM Mtn Today. New Cases in Washington, Oregon and California Could Be "Community Spread." U. S. 66 Confirmed Cases. World Death Total Now 2,942 and 86,021 Cases.

02-28-2020 – World Health Organization Today: Risk of COVID-19 Spread and Impact Is Now "Very High At A Global Level."

02-27-2020 – CDC Confirms First "Community Spread" COVID-19 Case in California, Which Means No Clue Where Coronavirus Came From.

02-26-2020 – 8:30 AM Mtn Feb. 26th Update — CDC to Americans: "Prepare for Expectation That This COVID-19 Might Be Bad." WHO: "World Must Prepare for Pandemic." See Earthfiles YouTube Livestream Tonight for Latest Details.

02-17-2020 – Monday 7:30 PM Update: 73,335 Confirmed Cases and 1,873 Deaths; 300+ American Diamond Princess Cruise Passengers Land At Lackland AFB Early This Morning with 14 More COVID-19 Newly Infected Patients Who Will Be Quarantined Again, Raising U.S. Confirmed Cases to 29.

© 1998 - 2023 by Linda Moulton Howe.
All Rights Reserved.