"When you look at the number of people that are projected that may need ventilators, 2,000 doesn't really put much of a dent into it. The key thing is the private sector, the manufacturing side, whoever makes medical machines of this type. How do you prime that pump to get production up?  Because we are simply not going to be able to meet the demand if the demand fits some of the profiles as we've seen in the CDC brief."
— Mark Esper, U. S. Secretary of Defense, The Pentagon, March 17, 2020
If Iranians fail to follow stricter government guidance now, "it could collapse Iran's already-strained medical system and cause 4 million coronavirus cases and 3.5 million deaths."
— Afruz Eslami, M. D., Iranian State Television, March 17, 2020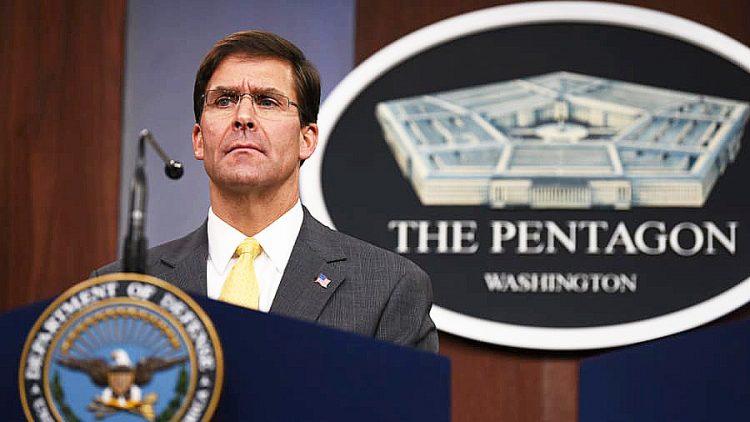 March 17, 2020 Albuquerque, New Mexico –  The U. S. Secretary of Defense Mark Esper announced today that the Pentagon is opening up its post-9/11 "strategic reserves" stockpile to make available up to 5 million respirator masks and 2,000 "deployable ventilators." First up for release are 1 million respirator masks so badly needed in hospitals and care centers all over the United States as the COVID-19 in America has infected  6,176 people and killed 102.
"When you look at the number of people that are projected that may need ventilators, 2,000 doesn't really put much of a dent into it," said Mark Esper, U. S. Secretary of Defense in The Pentagon on March 17, 2020. "The key thing is the private sector, the manufacturing side, whoever makes medical machines of this type. How do you prime that pump to get production up?  Because we are simply not going to be able to meet the demand if the demand fits some of the profiles as we've seen in the CDC brief."
Worldwide, the March 17th afternoon positive cases reached 197,720 with 7,954 deaths and 81,691 recoveries. The coronavirus has spread to 164 countries and territories out of a total of 194. In Iran where Monday night, angry crowds were reported by CTV News as storming into the Mashhad's Imam Reza shrine and Qom's Fatima Masumeh shrine to touch and kiss the shrine, all that protesting closeness could increase coronavirus contamination.  TV journalist Dr. Afruz Eslami reported today on Iranian state television that Tehran's Sharif University of Technology projects that if Iranians fail to follow stricter government guidance now, "it could collapse Iran's already-strained medical system and cause 4 million coronavirus cases and 3.5 million deaths."
To keep track of the numbers country-by-country, please see:  Worldometers.info.
---
More Information:
"Australian researchers claim two existing drugs could 'cure' COVID-19 after patients tested responded 'very well' to treatment," March 17, 2020:  https://www.dailymail.co.uk/news/article-8115879/COVID-19-Australian-researchers-CURE-coronavirus.html
"Prophylactic and therapeutic remdesivir treatment in the rhesus macaque model of MERS-CoV infection," Proceedings of the National Academy of Sciences, February 13, 2020: https://www.pnas.org/content/early/2020/02/12/1922083117
"Remdesivir prevents MERS coronavirus disease in monkeys," February 13, 2020: https://www.sciencedaily.com/releases/2020/02/200213160128.htm
---
Websites:
Rocky Mountain Laboratories of National Inst. of Allergy and Infectious Diseases (NIAID): https://www.niaid.nih.gov/about/rocky-mountain-laboratories
Earthfiles News About COVID-19:
03-13-2020 – 5:30 PM Eastern UPDATE: Trump Declares National Emergency to Help Fight COVID-19.

03-09-2020 – 7:00 PM Mtn UPDATE: ALL of Italy Now On Urgent Lockdown. Rest of World in 113 Countries = 114,343 Cases; 4,025 Deaths; 63,997 Recovered.

03-08-2020 – 8:30 PM Mtn Update – Half the World's Countries Now Infected in 104 of 197. Milan Region's 16 Million People Now On Lockdown Trying to Contain COVID-19. All Italian Schools Closed. Worldwide 110,066 Cases; 3,830 Deaths; 62,278 Recoveries.

03-06-2020 – 2:00 PM Mtn UPDATE: COVID-19 Pandemic Now in 97 Countries = 101,876 Cases; 3,462 Deaths; 56,108 Recoveries. United States Still Without Adequate Test Kits While COVID-19 Hiding Weeks Inside Human Hosts Infecting Other Humans. Implication: Explosion of USA Positive Cases Upcoming.

03-05-2020 – 1 PM Mtn UPDATE – UK's First Death and World COVID19 Cases = 97,910; Deaths = 3,353, Recovered = 54,124. USA: 16 States; 194 Cases and 11 Deaths.

03-02-2020 – 1 PM March 2nd UPDATE: Pandemic COVID-19 Now In 75 Countries: 90,294 Cases; 3,086 Deaths; 45,705 Recoveries. United States 92 Cases and 6 Deaths.

03-01-2020 – Sunday, 5 PM Update: Italy Reports 50% Spike in COVID-19 Cases; Rhode Island Reports First COVID-19 Case; and the French Louvre Closes Doors. Now In 67 Countries —  88,377 Cases, 3,001 Deaths, 42,743 Recoveries.

02-29-2020 – First COVID-19 Death in U. S. Is In Washington State. King County Press Conference At 4 PM Mtn Today. New Cases in Washington, Oregon and California Could Be "Community Spread." U. S. 66 Confirmed Cases. World Death Total Now 2,942 and 86,021 Cases.

02-28-2020 – World Health Organization Today: Risk of COVID-19 Spread and Impact Is Now "Very High At A Global Level."

02-27-2020 – CDC Confirms First "Community Spread" COVID-19 Case in California, Which Means No Clue Where Coronavirus Came From.

02-26-2020 – 8:30 AM Mtn Feb. 26th Update — CDC to Americans: "Prepare for Expectation That This COVID-19 Might Be Bad." WHO: "World Must Prepare for Pandemic." See Earthfiles YouTube Livestream Tonight for Latest Details.

02-17-2020 – Monday 7:30 PM Update: 73,335 Confirmed Cases and 1,873 Deaths; 300+ American Diamond Princess Cruise Passengers Land At Lackland AFB Early This Morning with 14 More COVID-19 Newly Infected Patients Who Will Be Quarantined Again, Raising U.S. Confirmed Cases to 29.

© 1998 - 2023 by Linda Moulton Howe.
All Rights Reserved.